Tangy pineapple flavours with a creamy texture, this alcohol-free cocktail is bound to go down well.
Piña Colada Mocktail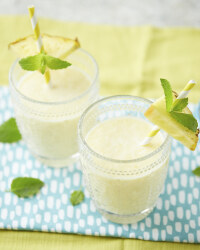 Recipe Information
Ingredients
2 scoops Vanilla Ice Cream
1 pack Let's Eat… Pineapple Chunks
300ml Asia Specialities Coconut Milk
2 Cherries
Method
Place the ice cream, pineapple chunks and coconut milk into a blender and blend until all ingredients are well combined and the texture is smooth.
Serve with a slice of pineapple and a cherry in a piña colada glass.