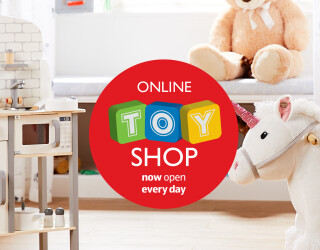 Online Toy Shop
Welcome to our online Kids' Toy Shop - the perfect place to find play sets, plush toys and plenty more fun things your children will love. And at great Aldi value too! Browse children's toys available to buy in-store or have delivered straight to your door. From traditional wooden toys and ride-ons to the latest tech and educational toys, all of ALDI's kids' toys are crafted to the same high standard our customers expect.
Now closed, re-opening Autumn 2019!
Our toy shop has now closed, but later this year we'll be launching a brand new exciting range of toy products, all with a price-tag to smile about, so watch this space. In the meantime, explore our current toy range below.