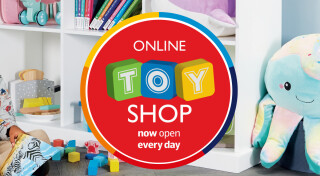 Toys galore and much, much more!
From traditional wooden toys, to electronic toys, action and toy figures, games and puzzles and a whole host of games, books and educational toys, we are sure you'll find something that you and your little ones will love in our amazing Toy Shop!
What's more, our Toy Shop is always full of amazing Aldi value.
With free delivery straight to your door when you spend over £30, it'll take a lot of the hassle out of shopping for Christmas, birthdays or special treats!
Hooray! It's playtime.
You can discover all of our incredible Toy Shop range online, category by category. Encourage your children to create big adventures with our fantastic action and toy figures, not to mention our much-loved Little Town® wooden toy collection. Let them enjoy hours of competitive fun with our sports and outdoor toys. Simply order online and we'll deliver it straight to your door.
Great gifts for kids under £10, £20, £30 and £50.
Surprise! It's just what they always wanted. And all at amazing prices. Our Toy Shop is full of lots of great ideas for birthday presents, some amazing gifts for all ages and plenty of perfect little surprises. Just shop for the price you like.