A delicious dessert perfect for warm summer nights.
A Monster Cookie Sandwich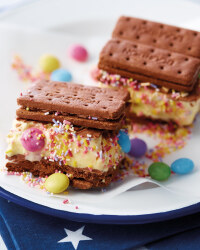 Recipe Information
Ingredients
3 x 200g packets of Bourbon Biscuits
200g Milk Chocolate
2 tbsp Coconut Oil, melted
500g Vanilla Ice Cream, softened
Sprinkles, Milk Chocolate Chocum's or Chopped Nuts
Method
Line the tin with baking paper, then arrange a layer of bourbon biscuits in the base of the tin.
Melt the chocolate in the microwave, checking every 30 seconds, until fully melted and smooth.
Stir the coconut oil through the melted chocolate, then pour half the melted chocolate over the bourbons.
Spread the ice cream over the biscuits and chocolate, then pour over the remaining chocolate.
Top with another layer of biscuits and leave to harden in the freezer for at least 3 hours.
When ready to serve, cut the block into 12 and garnish with sprinkles, Milk Chocolate Chocum's or chopped nuts.