So many good things all in one bowl. Where to start? Beansprouts, coriander, cucumbers, mangetout, spring onions, honey roasted peanuts…
Asian Crispy Salad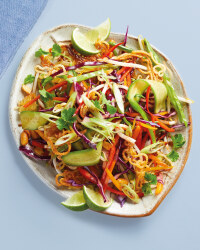 Recipe Information
Ingredients
½ Red Cabbage
80g Mangetout
3 Baby Cucumbers
150g pack Sweet Mini Peppers
200g Beansprouts
4 Spring Onions
10g Fresh Coriander
300g pack Ready to Wok Noodles
80ml Olive Oil with Garlic
80g Honey Roasted Peanuts
For the dressing
125ml Olive Oil
1 Lime
10ml Soy Sauce
1 tsp Paprika
1 Garlic Clove
Method
Thinly slice the cabbage, cucumbers, mangetout and the peppers.
Trim and shred the spring onions. Mix all in a bowl with the beansprouts.
Fry the noodles in a wok with the oil until crisp.
Sprinkle these over the salad along with the peanuts.
Chop the coriander and sprinkle over the top.
To make the dressing, peel and mince the garlic, then place in a bowl with soy sauce, lime, paprika and olive oil. Whisk well and serve drizzled over the salad.