Ideal as a snack or with a buffet, these delicious veggie sliders add a flavour of the Mediterranean.
Aubergine Goat's Cheese Sliders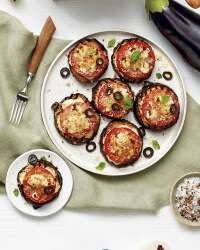 Recipe Information
Ingredients
1 Aubergine, sliced into 12
4 Vine Tomatoes, sliced
65ml Olive Oil
150g roll Soft Garlic & Herb Goat's Cheese
12 Black Pitted Olives
1 Slice White Bread
12 large Fresh Basil Leaves
Cracked Black Pepper
Olive Oil to drizzle
Method
Pre-heat the oven to 200°C/Gas Mark 6.
Make breadcrumbs using the slices of bread.
Heat a griddle pan until hot.
Griddle the aubergine slices on each side until marked.
Place the aubergine on a baking tray and sprinkle with half the cheese.
Top each aubergine with a slice of tomato, then sprinkle over the remaining cheese and the breadcrumbs.
Drizzle over the 65ml olive oil and bake in the oven for 20 minutes.
In the meantime, chop the olives.
Serve 3 sliders per person, topped with torn basil leaves and chopped olives.
Drizzle with a little olive oil and pepper and serve immediately.