Layered aubergine lasagne made with fresh vegetables, passata sauce and cheese.
Aubergine Lasagne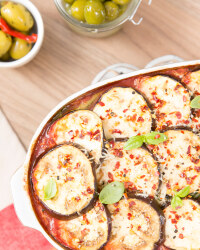 Recipe Information
Ingredients
6 courgettes
2 bottles of tomato passata sauce
Fresh Basil
Aubergine
Black pepper
Salt
Chilli flakes
Cheese (optional)
Method
Cut courgettes thinly and pre roast for 15 minutes.
Put a layer of courgette on the bottom of an oven dish, follow with a layer of tomato sauce and a handful of fresh basil, repeat and layer all ingredients until stacked (normally 4/5 layers).
Top with slices of aubergine, and cheese if you wish.
Bake in the oven for 20-30 mins at 140 degrees.