Deliciously rustic mushrooms topped with creamy goat's cheese, tangy tomatoes and basil.
Baked Mushrooms with Goat's Cheese & Sundried Tomatoes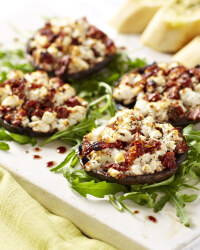 Recipe Information
Ingredients
1 pack 4 large flat mushrooms
70g Drained Cucina Sundried tomatoes, plus 20ml oil from the jar
100g The Cheese Emporium goat's cheese
1 tsp Stonemills dried Basil
1 x 338g pack San Carlo Garlic breads
Black pepper
Rocket leaves to serve
Bramwells Balsamic dressing
Find your ingredients online on Click & Collect or find your nearest store using our Store Finder.
Method
Preheat the oven to 180°C/350°F/ Gas Mark 4.
Wipe the mushrooms with a clean damp cloth and remove the stalks.
Chop the sun dried tomatoes finely.
Mix the tomatoes with the goat's cheese, dried basil and season with some black pepper.
Stuff the mushrooms with the goat's cheese mixture.
Put them on a baking tray, and then drizzle over the oil.
Put the garlic breads on to another baking tray.
Bake them both for 15 mins.
Serve the mushrooms on a bed of rocket leaves, drizzled with some dressing, alongside the garlic bread.