Decadent and indulgent, this truffle dessert exudes elegance.
Ballycastle and Chocolate Truffles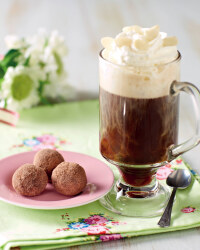 Recipe Information
Ingredients
100g Choceur Fairtrade Belgian dark chocolate
55ml Ballycastle Irish Cream
25g Greenvale unsalted butter
30g Alcafe Hot chocolate instant powder
Find your ingredients online on Click & Collect or find your nearest store using our Store Finder.
Method
Break up the chocolate and put in a small heatproof glass bowl along with the Ballycastle Irish cream and the butter, put the bowl over a pan of boiling water - make sure that the bottom of the bowl does not touch the water - stir gently till the chocolate has melted and the mixture is smooth.
Take the bowl off the pan and allow to cool - then put in the fridge for an hour to harden.
Take a teaspoon of the chocolate mixture, roll into a ball and coat in the drinking chocolate - the mixture will make about 12.
Put back in the fridge until ready to serve.