This colourful, tasty and super-healthy dish is ideal for parties.
Beetroot & Cannelllini Bean Dip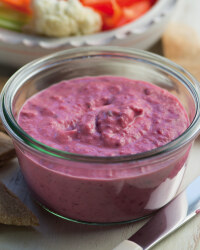 Recipe Information
Ingredients
1 x Tin Chickpeas in Water, drained
200g Cooked Beetroot
200g Lower Fat Soft Cheese with Herbs
Ground Black Pepper
4 x Wholemeal Pitta Breads
4 x Celery Sticks
1 x Red Pepper, deseeded and cut into strips
1 x Large Carrot, cut into strips
200g Cauliflower Florets
Find your ingredients online on Click & Collect or find your nearest store using our Store Finder.
Method
Put the cannellini beans or chickpeas, beetroot and soft cheese into a blender and process until smooth, or use a hand-held stick blender.
Season with black pepper.
Pack into 4 separate pots.
Cut the pitta breads into strips and wrap portions in cling film.
Wrap up portions of the vegetables and pack into lunch boxes with the dip.
Keep cool until ready to serve.