A quick and easy tea, inspired by Italy's calzone pizza.
Calzone Pizza Wrap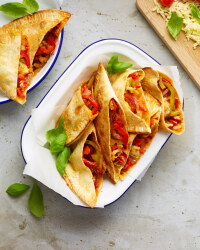 Recipe Information
Ingredients
4 The Village Bakery White Wraps
1 tbsp Olive Oil 1 Red Pepper (sliced)
1 Green Pepper (sliced) 1 Red Onion (sliced)
1 tsp Salt 1 tsp Pepper
1 tsp Stonemill Dried Oregano
250g Sweet Harvest Passata
120g Grated Mozzarella + extra sprinkle
60g Chorizo (roughly sliced)
Method
1. Preheat the oven to 190C/170F Fan/Gas Mark 5.
2. Heat oil in a frying pan and cook the peppers and onion for 5-10 minutes until softened.
3. Add the salt, pepper and dried oregano followed by the passata and heat through.
4. Divide the tomato filling onto one half of each wrap.
5. Top with the cheese and sliced chorizo. Brush a little water on the edges then fold the wrap over to create a semi-circle.
6. Crimp the edges and use a fork to press in place. If you are having trouble add a little more water.
7. Sprinkle a little extra cheese on top then bake the calzone wraps for 10 minutes until crisp and then serve immediately.