A colourful, healthy and delicious lunch alternative.
Caribbean Style Chicken & Rice Salad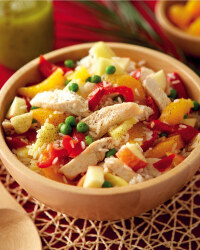 Recipe Information
Ingredients
400g pack Frozen Cooked Chicken Breast Pieces
2 125g sachets of Easy Cook Boil-in-the-Bag Long Grain Rice
3 Oranges
3 Fun Size Apples
½ Pineapple
½ tsp Dijon Mustard
130ml Olive Oil
280g jar Marinated Grilled Peppers, drained and cut into pieces
150g Frozen Garden Peas
Salt and Pepper
Method
Defrost the chicken pieces as per pack instructions.
Cook the rice and frozen garden peas as per pack instructions and put to one side.
Peel 2 oranges and cut into segments.
Core and chop the apples into bite size pieces then finally peel the pineapple and chop into bite size pieces.
Place all the fruit into a bowl.
Then in a separate bowl squeeze the juice from the remaining orange then stir in the mustard.
Add the olive oil and beat well.
Pour the dressing over the fruits, add the warm rice, the peppers, and the garden peas, season with salt and pepper.
Stir through the chicken pieces.