This succulent prawn dish is a delectably healthy choice for lunches and dinners.
Caversham Prawns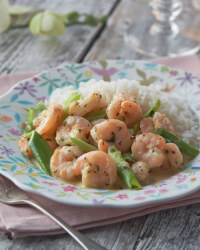 Recipe Information
Ingredients
2 x 200g packs Specially Selected Jumbo Raw Prawns
2 Garlic Cloves, peeled and finely chopped
25ml Specially Selected Olive Oil
80ml Caversham Sherry
80ml Double Cream
40g Grated Mature Cheddar Cheese
6 Spring Onions
1 heaped tsp Stonemill Parsley
Black Pepper
150g Bilash Basmati Rice
Method
Defrost the prawns and pat dry.
Cook the rice as per pack instructions.
Trim and wash the spring onions, then chop into small chunks.
Heat the oil in a large frying pan and sauté the prawns for 2-3 minutes with the chopped garlic and the spring onions.
Add the sherry, cream and Cheddar cheese.
Season with black pepper and parsley and cook on low for a couple of minutes until thickened.
Serve on a bed of rice.