Golden brown homemade cheese and Mighty Yeast sausage rolls.
Cheese and Mighty Yeast Sausage Rolls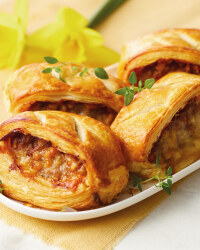 Recipe Information
Ingredients
1 x 400g pack Pork Sausages
1 x 375g pack Ready Rolled Puff Pastry
7g Mighty Yeast Extract
80g Grated Cheddar Cheese
1 x Egg Yolk
10ml Milk
Method
Pre-heat the oven to 200°C/Gas Mark 6.
Mix the egg yolk with the milk. Split open the sausages and discard the skin. In a bowl, mix the sausage meat with the grated cheese.
Roll out the pastry. Spread the yeast extract down the centre of the pastry. Then put the sausage meat mix on top of the yeast. Roll up the pastry on both sides and seal with some of the egg wash.
Turn over so the seal is at the bottom. Cut into 8.
Make a couple of slices on top of each roll with a sharp knife, then glaze with more egg wash.
Transfer them to a greased baking sheet and bake for 15/18 minutes until golden brown. Eat hot or cold.