Creamy cheese fritters made with corn, grated cheese, spring onion and paprika.
Cheesy Corn Fritters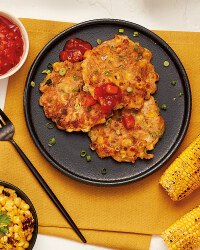 Recipe Information
Ingredients
2 x fresh Corn on the Cob
2 x Spring Onions
150g Plain Flour
100g Mature Cheddar Cheese
100ml Semi Skimmed Milk
2 x Medium Eggs
1 x tsp Paprika
Sea Salt and Black Pepper
Sunflower Oil, to fry
1 x 200g carton Tomato Salsa, to serve
Method
Blanch the corn in some boiling water for 5 minutes – dry well with a clean tea towel. With a sharp knife, cut the kernels off the husk. Put them into a mixing bowl.
Wipe and trim the spring onions and slice thinly, then add to the bowl. Grate the cheese and add to the bowl. Sprinkle over the flour and paprika, season with some salt and pepper, then mix well.
Whisk the eggs in another bowl, along with the milk – add this to the corn and mix well. Heat a little oil in a large frying pan and add dessert spoons of the mixture into the pan – approx. 80g each. Flatten into a round shape and fry for a couple of minutes each side. Cook in batches and keep the cooked ones warm, then serve alongside the salsa.