Amazing enchiladas baked with shredded leftover chicken, chopped veg and tortilla wraps.
Chicken Enchiladas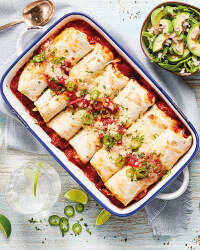 Recipe Information
Ingredients
300g leftover Chicken, shredded
400g tin Mixed Beans, drained and rinsed
2 x 400g tins Chopped Tomatoes
1 x large Onion, sliced
75g Spinach
2 tsp Chilli Powder
1 tsp Paprika
½ tsp Ground Cumin
1 tbsp Olive Oil
6 White Tortilla Wraps
50g Cheddar, grated
Oven dish, lightly greased with olive oil
Method
Heat the oil in a frying pan.
Add the onion, chilli powder, paprika and cumin, then cook for a couple of minutes until the onion has softened.
Add the 2 tins of chopped tomatoes and cook for 10 minutes until the tomato sauce has reduced.
Reserve half of the tomato sauce for later and add the shredded chicken, mixed beans and spinach into the remaining sauce in the pan.
Cook on low for 5 minutes until the spinach has wilted and everything is well combined in the sauce.
Pre-heat the oven to 200°C/Gas Mark 6.
Spread half of the reserved tomato sauce in the bottom of the oven dish.
Fill the 6 wraps with the chicken filling and roll up, then place in the oven dish.
Top with the remaining sauce and sprinkle over the grated cheese.
Bake for 15-20 minutes until the cheese has melted and is golden.