Classic burgers with a Mexican twist: the tangy salsa is the perfect complement to these juicy beef burgers.
Double Beef Burgers with Vegetable Salsa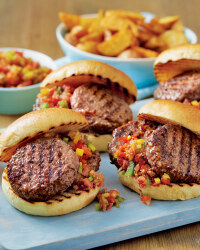 Recipe Information
Ingredients
8 British Beef Burgers
4 Specially Selected Brioche Burger Buns
Red, Green and Yellow Pepper
4 Large Vine Tomatoes
100g White Mushrooms
Juice of half an orange
1 tsp each Garlic Granules, Chilli Flakes, Paprika and Basil
500g Champion Grade Potato Wedges
Sea Salt and Black Pepper
Find your ingredients online on Click & Collect or find your nearest store using our Store Finder.
Method
Remove and seeds and white pith from the peppers and chop finely.
Chop the tomatoes into small chunks.
Remove the stalks from the mushrooms.
Wipe the mushrooms and chop finely.
Add the chopped peppers, tomatoes and mushrooms into a food processor.
Add the orange juice, chilli flakes, paprika, basil and garlic granules, season with a little salt and black pepper and whizz for about 15 seconds to combine.
Put into a bowl and refrigerate.
Cook the wedges as per directions on the pack.
Grill or barbecue the burgers to your liking.
Lightly toast the burger buns on the cut side.
Fill each bun with 2 burgers, top with some salsa and serve alongside the wedges with the rest of the salsa in a bowl.