These adorably tasty cupcakes are a fun and delicious way to feed your party guests this Easter.
Easter Bunny Cup Cakes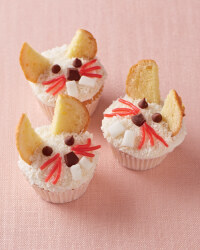 Recipe Information
Ingredients
190g The Pantry Self Raising Flour
190g The Pantry Caster sugar
190g Greenvale Perfect For Cakes Soft Spread
200g Choceur Smooth White Chocolate Bar
3 Merevale Medium Free Range Eggs
454g Pack Ready to Roll White Icing
1 tbsp Grandessa Honey
To decorate
Dominion Strawberry Laces, Chocolate Buttons
Method
Pre-heat the oven to 180°C/350°F/Gas Mark 4.
If you have a food processor add the eggs, spread, caster sugar and flour and pulse until well blended, if not, beat the spread with the sugar, then beat in the eggs, and then whisk in the flour until smooth.
Line a cupcake tin with paper cases, ¾ fill each with some mixture.
Bake for 18-20 minutes, until risen and firm to the touch.
Allow to cool then cut off the risen dome, to make the cakes flat on top.
Cut this piece into half for the ears.
Roll out the icing, cut out rounds and put on the cakes.
Apply a thin brushing of honey, grate the chocolate, and sprinkle over the honey.
Make two holes and put the cut tops in as ears.
Cut shapes from the ready to roll icing for its teeth, chocolate buttons for eyes, laces for whiskers and half a button for its nose.