Mini fish tacos made with beautifully seasoned fish and a creamy chilli dip.
Fish Tacos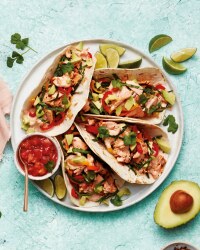 Recipe Information
Ingredients
8 x Mini Tortilla Wraps
400g fresh Fish or leftover Salmon
4 x tsp Cajun Seasoning
2 x tsp Dried Oregano
200g pack The Deli Salsa
1 x 150g pack Mini Peppers
100g washed Spinach Leaves
1 x large Red Onion
2 x ripe Avocados
100g Greek Yogurt
50g Mayonnaise
1 x tsp Chilli Powder
½ tsp Ground Cumin
1 x tsp Paprika
6g fresh Coriander
3 x Limes
50ml Olive Oil
Method
Pre-heat the oven to 180°C/Gas Mark 4. Cut the fish into strips and toss with the Cajun seasoning and the oregano in a bowl – or, if using leftover fish, break into chunks and toss with the above seasonings.
Cut the peppers in half, remove the seeds and white pith and slice thinly. Shred the spinach leaves. Peel, halve and thinly slice the red onion. Cut the avocados in half, discarding the stones, then remove the flesh and chop finely. Squeeze the juice from 1 lime over the chopped flesh.
In a bowl, add the yogurt, mayo, chilli powder, cumin and paprika and mix well. Chop the coriander. Cut the limes into quarters. Put the salsa into a small bowl.
In a large frying pan, heat the olive oil. Fry the fish for 8 minutes until crispy and cooked through. If using the leftover fish, cook for about 5 minutes.
Dry fry the wraps in a large frying pan on both sides for a few minutes to warm through, or griddle them. Serve the wraps alongside the rest of the ingredients and serve for guests to assemble.