Simple, easy and delicious. This pitta recipe is perfect for a quick lunch.
Chef's Tip
For a vegetarian version, omit the ham and add 40g reduced fat hard cheese to the coleslaw, either grated or cut into tiny cubes.
Ham & Fresh Coleslaw Pittas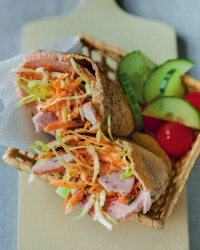 Recipe Information
Ingredients
150g firm White Cabbage, finely shredded
1 Carrot, grated
2 Spring Onions, finely chopped
2 tbsp Low-Fat Natural Yogurt
4 Wholemeal Pitta Breads
4 slices Lean Roast Ham
1 pinch Ground Black Pepper
2 handfuls Cherry Tomatoes
¼ Cucumber, sliced
Method
Mix together the cabbage, carrot and spring onions.
Add the yogurt and stir together.
Season with black pepper.
Warm the pittas in a toaster or under the grill.
Split them open and stuff each one with a slice of ham and the coleslaw.
Serve each pitta with cherry tomatoes and cucumber.