This delicious Honey Glazed Halloumi Pitta is a great lunch or starter.
Honey Glazed Halloumi Pittas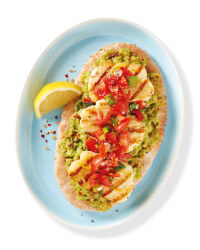 Recipe Information
Ingredients
1 x 225g pack Halloumi
2 tbsp Clear Honey
4 tbsp Olive Oil
2 Lemons
1 Avocado
1 tsp Crushed Chillies
1 x 220g pack Specially Selected Piccolo Tomatoes
2 Spring Onions
1 Clove of Garlic
3 tsp Vegetable Oil
2 x Wholemeal Pittas
Salt & Black Pepper
Method
In a bowl mix 2 tablespoons of olive oil, honey, lemon juice and zest until smooth.
Cut the halloumi into 6 slices and add to the mixture, marinate for 5 minutes.
Make the guacamole by smashing the avocado with a fork.
Add the juice of half a lemon, 1 teaspoon of crushed chillies and a pinch of salt then stir.
Make the salsa by chopping the tomatoes and spring onions very finely.
Press the garlic clove and stir with the tomatoes and onions.
Heat the remaining 2 tablespoons of olive oil in a frying pan.
Add the halloumi and fry for 2 – 3 minutes on each side until golden brown.
Serve the halloumi on warmed pittas with the guacamole and top with the tomato salsa.