Tastes like it sounds…. AMAZING! Of course it does. It's a fabulous frozen fusion of squishy Hot Cross Buns, fruity raspberries and milky ice cream.
Hot Cross Bun Ice Cream Bombe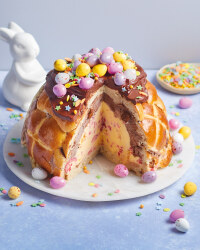 Recipe Information
Ingredients
8 Hot Cross Buns
480ml of your favourite Specially Selected Ice Cream
480ml Specially Selected Vanilla Ice Cream tub
125g Raspberries
75g Specially Selected Quadruple Chocolate Cookies
100g Dark Chocolate
100ml Double Cream
Mini Eggs
Sprinkles
Method
Line a freezer-safe mixing bowl with cling film. Halve the hot cross buns and flatten.
Line the bowl with the tops of the hot cross buns (cross side out).
Use the bottoms to fill gaps. Add the raspberries to the vanilla ice cream once soft.
Roughly chop the cookies and add to your favourite ice cream.
Use this to cover the hot cross buns and make a well in the centre for the vanilla and raspberry ice cream.
Cover the ice cream with the remaining hot cross bun bases and wrap in cling film.
Freeze overnight or until frozen all the way through.
Turn the bowl upside down and use the cling film to release the ice cream bombe.
To serve, melt the dark chocolate and add the double cream.
Stir until thick and smooth.
Spread over and add mini eggs and sprinkles.