A vegan version of the classic Mexican dish, with all the spice but none of the meat.
Jackfruit Chilli Con Carne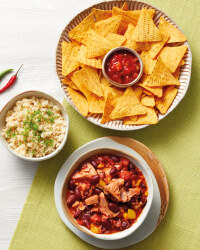 Recipe Information
Ingredients
1 x Large Onion
1 x 400g Tin Jackfruit
1 x 400g Tin Red Kidney Beans
1 x 400g Tin Tinned Chopped Tomatoes
1 x Large Pepper
1 x Courgette
1 x Red Chilli – Approx. 10g
2 x Tsp Paprika
2 x Tsp Dried Oregano
2 x Cloves Garlic
130ml Water
Sea Salt and Black Pepper
50ml Olive Oil
Method
Peel the onion and finely chop.
Chop the pepper into small chunks – discard any white pith or seeds.
In a large saucepan fry the chopped peppers and onions in the olive oil for a few mins on a low heat.
Meanwhile peel the garlic and mince.
Finely chop the chilli – keep the seeds if you want a hotter chilli.
Add these to the pan and cook for another minute.
Then add the tinned tomato, paprika, oregano and the water.
Grate the courgette and add to the pan.
Drain the kidney beans and add to the pan, season with some salt and pepper.
Bring to the boil and simmer for 10 mins.
Drain the jackfruit and add this to the chilli – cook another 10 mins and then serve.
Great served with cauliflower rice and some vegan cheese tortilla chips on the side.