Scrumptious kiwi and fresh banana cake, with added cinnamon and vanilla.
Kiwi & Banana Cake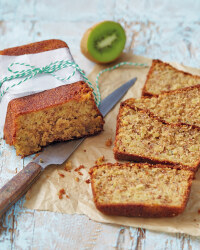 Recipe Information
Ingredients
3 Kiwis
1 Banana
180g The Pantry Plain Flour
125g Greenvale Unsalted Butter
2 tsp The Pantry Baking Powder
½ tsp The Pantry Bicarbonate of Soda
½ tsp Vanilla Essence
½ tsp Stonemill Ground Cinnamon
2 Large Eggs
150g The Pantry Caster Sugar
1lb Loaf Tin – lined with some non-stick baking parchment
Find your ingredients online on Click & Collect or find your nearest store using our Store Finder.
Method
re-heat the oven to 180°C/350°F/Gas Mark 4.
Peel and grate the kiwi. Peel and mash the banana.
Mix the 2 fruits together in a bowl and add the cinnamon and vanilla essence.
n another bowl, cream the butter and sugar together until pale, light and creamy. Add the eggs one at a time and beat well.
Mix in the fruit. Sift the flour, baking powder and bicarbonate of soda into a bowl.
Gradually stir in the fruit batter mix. Pour into the prepared tin and bake for 45 – 50 minutes – until risen, golden and firm to the touch.