Made with Greek-style yoghurt, honey and cereal, this granola is ideal for a healthy breakfast.
Melon Granola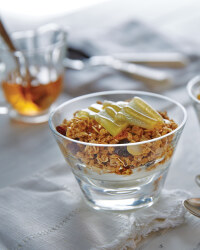 Recipe Information
Ingredients
½ Galia Melon
20ml The Pantry Lemon Juice
240g Harvest Morn Crunch – you choose your favourite
400g Brooklea Greek Style Yogurt
40g Grandessa Squeezy Honey
Method
Remove any seeds from the melon and slice away the skin.
Thinly slice the flesh and toss in the lemon juice.
Assemble the granolas.
Using 4 glass dishes assemble 2 layers with some yogurt, then crunch, then melon and finish with a drizzle of yogurt.
Keeps well in the fridge for a few hours.