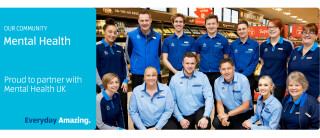 Working together for better mental health
Looking after the health and wellness of our 33,000 colleagues across the UK is a top priority for us at Aldi.
And that's why we've teamed up with Mental Health UK in a two-year partnership that will provide practical tools and guides that aim to give people the confidence to speak openly about their own mental wellbeing.
"It has never been more important to protect our mental health and support others as we navigate these uncertain times," reflects HR Director, Sophie Smith. "With one in four of us experiencing a mental health problem, we know that many of our colleagues are likely to be impacted in some way."
As well as helping tackle the stigma around mental health, Sophie hopes this partnership "will bring even more support and guidance to our amazing colleagues across our stores, distribution network and head offices."
Existing help already comes in the form of counselling, wellness coaching, financial wellbeing support, an online wellbeing platform and a 24/7 confidential helpline delivered by retailTRUST.
Brian Dow, Chief Executive at Mental Health UK understands how important this partnership is for the long-term wellness and wellbeing of colleagues, family and friends. He explains: "It's easy to forget that many retail staff are on their own version of the front-line and without them right now performing their own heroics many of us would be facing a far more difficult time in what are already unprecedented circumstances. So, we are absolutely thrilled to be playing our part in partnering with Aldi, working together over the coming two years to support colleagues' mental health when they need it most."