This zesty and fruity cake is a delicious dessert option for parties.
Muesli & Lemon Cake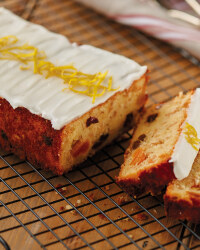 Recipe Information
Ingredients
100g Harvest Morn Luxury Fruit Muesli
75g The Pantry Self Raising Flour
25g The Pantry Ground Almonds
150g Greenvale Unsalted butter – at room temperature
150g The Pantry Caster Sugar
3 medium Eggs
1 Lemon
1 114g pot Gooseberry Fool Icing
75g The Pantry Icing Sugar
15ml The Pantry Lemon Juice
1 x 2lb loaf tin Non-stick baking paper
Method
Pre-heat the oven to 180ºC/350ºF/Gas Mark 4.
Line the base and side of the tin with some baking paper.
Cream the butter with the caster sugar until light and fluffy.
Beat in the eggs one at a time.
Finely grate and juice the lemon.
Add the lemon and rind to the gooseberry fool and mix well.
Add this to the cake mix and stir through.
Then add the muesli, ground almonds and flour – gently mix together.
Put the mixture into the prepared tin.
Bake in the oven for about 35/40 minutes – it won't rise much or at all.
Check it's cooked by inserting a wooden skewer into the cake – if it comes out clean then the cake is ready, if not return to the oven for a further 5 minutes.
Allow to cool in the tin for 15 minutes, then turn out and cool on a wire rack Sieve the icing sugar and mix with the lemon juice – spread over the top of the cold cake and serve.