These savoury pancakes are filled with a delicious mix of mushrooms and soft cheese. Make them ahead of time for a stress-free Pancake Day.
Mushroom and Soft Cheese Pancakes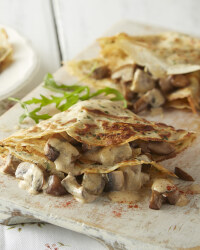 Recipe Information
Ingredients
200g White Mushrooms
200g Chestnut Mushrooms
1 200g Plain Soft Cheese
40g Butter
1 Vegetable Quixo Stock Cube
1 tsp Stonemills Paprika
100g The Pantry Plain Flour
2 Medium Eggs
250ml Milk
2 tsps Stonemills Dried Parsley
½ tsp Stonemills White Pepper
Sea Salt
A little Solesta Sunflower Oil
23-24cm Frying Pan
Find your ingredients online on Click & Collect or find your nearest store using our Store Finder.
Method
Wipe the mushrooms and chop.
Melt the butter in the frying pan, sauté the mushrooms for 5-6 minutes, crumble over the stock cube, paprika and add the soft cheese, cook gently for a few minutes stirring as you cook – remove from pan and allow to cool.
To make the pancakes – sift the flour in a bowl then add the parsley, pepper and some sea salt.
Crack the eggs in a jug with the milk and whisk well.
Add this to the flour, whisking as you mix until you have a smooth batter.
Pre-heat the oven to 180°C/350°F/Gas Mark 4.
Wash the frying pan – using some oil in the pan, make 6 pancakes. Put the pancakes out flat, divide the mixture between them, putting it in the middle of the pancakes, fold up the sides to make a square.
Bake in the oven for 10 minutes and serve.
You can make these ahead of time – and then heat up in the oven when ready – they will take a little extra time to re-heat if they have been in the fridge.