Delicious sweet potato, paired with tangy parmesan and roasted to perfection.
Parmesan Sweet Potato Fries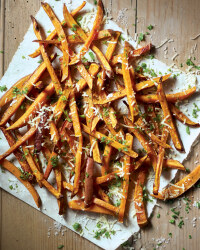 Recipe Information
Ingredients
1kg Sweet Potatoes
120ml British Rape Seed Oil
½ tsp Stonemill Garlic Granules
1 tsp Stonemill Paprika
Sea Salt and Black Pepper
100g Parmigiano Parmesan Cheese, finely grated
8g Fresh Parsley, finely chopped
Method
Pre-heat the oven to 230°C/450°F/Gas Mark 8
Wash the potatoes, dry thoroughly then slice into thin strips.
Mix the oil, paprika and garlic granules together and season with plenty of sea salt and some black pepper.
In a large bowl add the potato strips and the oil mixture, stirring thoroughly.
Put the potato strips onto baking sheets – making sure they don't overlap or touch each other, otherwise you will have soggy fries.
Roast in the oven for 10 minutes, turn them over and cook for a further 8 minutes.
Sprinkle with cheese and chopped parsley and serve.