Crispy pan-fried pea bhajis served with a coconut yoghurt, mango chutney and mint dip.
Pea & Potato Bhajis with Coconut & Mint Chutney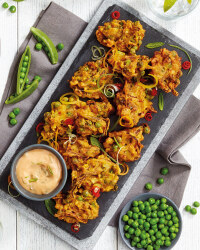 Recipe Information
Ingredients
150g Defrosted Frozen/Chilled, Freshly Cooked Peas
150g Maris Piper Potatoes, peeled
1 Small Red Onion
1 Red Chilli
3 Garlic Cloves
8g Fresh Coriander, chopped
30g piece Fresh Ginger, peeled
2 tsp Turmeric
1 tsp Ground Coriander
1 tsp Ground Cumin
150ml Coconut Greek Style Yogurt
150g Plain Flour
100ml Soda
Water Sea Salt and Black Pepper
For the dip
120ml Coconut Greek Style Yogurt
120ml Mango Chutney
6g Fresh Mint, finely chopped
Oil to deep fry
Method
Peel and finely dice the potatoes and the red onion.
Mince the garlic.
Finely chop the chilli along with the seeds.
Finely chop the ginger.
In a large bowl mix the potato, peas, garlic, onion, ginger, chilli, turmeric, cumin, ground and fresh coriander, season with salt and pepper and mix well.
Add the flour, yogurt and soda water and gently mix together.
Heat the oil to 175°C.
Drop dessert spoons of batter into the oil and fry for 4-5 minutes until golden brown.
Keep the cooked ones warm while you cook the rest.
To make the chutney, mix the 3 ingredients together and serve the bhajis alongside the chutney.