These succulent burgers are a delicious fusion of juicy pork, fresh apple and an assortment of herbs. Great for dinner.
Pork & Apple Burgers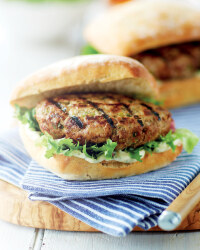 Recipe Information
Ingredients
500g Fresh British Pork Mince
2 Braeburn Apples, peeled and grated
4 Spring Onions, finely chopped
1 tsp Stonemill Dried Sage 2 cloves of garlic
1 tsp Stonemill Dried Parsley
50g Crispy Mixed Leaf Lettuce
2 x 2 pack Cucina Ciabatta Rolls
100g Bramwells Real Mayonnaise
50g Bramwells Apple Sauce
Salt and Black Pepper
Find your ingredients online on Click & Collect or find your nearest store using our Store Finder.
Method
Mix together the pork mince, grated apples, spring onions, dried sage and garlic granules, season with salt and pepper, mix well and form into 4 burgers.
Mix the mayonnaise, apple sauce and parsley together.
Grill or BBQ the burgers for about 5-7 minutes on each side.
Split the rolls and toast on the cut side.
Layer the burger on the rolls on a bed of lettuce and apple mayonnaise and serve.