Oven-baked mushroom skewers with a homemade satay sauce. Tastes just as good as satay chicken.
Portobello Satay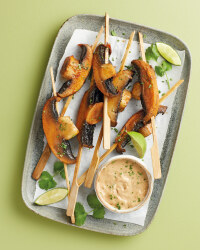 Recipe Information
Ingredients
2 x 250g packs Large Flat Mushrooms
100g Smooth Peanut Butter
125ml Coconut Milk
15ml Soy Sauce
Lime
Garlic Granules and Chilli Powder
200ml Olive Oil
2 tsp Paprika
Salt and Black Pepper
Wooden Skewers
Method
Pre-heat the oven to 200°C/Gas Mark 6.
Slice each mushroom lengthways into 3.
Put a skewer through each slice of mushroom to make about 24 mushroom skewers.
Mix the paprika with the olive oil, then season with some salt and pepper.
Put the mushroom skewers onto baking sheets and brush them with olive oil.
Bake in the oven for 15 minutes.
For the satay, put the peanut butter in a bowl along with the soy sauce, coconut milk and lime juice. Season with the garlic granules and the chilli and mix well.
Serve.