Put a new spin on your salad with this recipe.
Potato & Pea Salad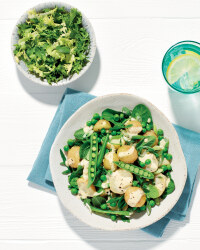 Recipe Information
Ingredients
500g Miniature Potatoes
150g Sugar Snap Peas
100g Frozen Garden Peas
50g Baby Spinach Leaves
100g Rocket Leaves
6g Fresh Mint Leaves
4 Spring Onions, trimmed and thinly sliced
50g Soft Cheese
50ml Olive Oil
Juice of 1 Lemon
Sea Salt and Black Pepper
Method
Cook the potatoes until just tender. Meanwhile, make the dressing by whisking the olive oil, lemon juice and soft cheese together, seasoning with a little salt and plenty of pepper.
Drain and halve the potatoes before placing in a bowl and adding half of the dressing. Mix well before adding spring onions.
Thinly slice the sugar snap peas lengthways and place in a bowl with the peas. Cover with boiling water, let them stand for 5 minutes and then drain thoroughly. Add to the potato mixture and gently toss.
Arrange the mint, spinach and rocket on 4 plates and divide the potato salad between them. Drizzle with extra dressing and serve.
To vary the flavour, try replacing the soft cheese with goats' cheese.