Roasted sweet chilli duck fillets served with crushed Jersey Royals and green beans.
Roasted Duck with Crushed Potatoes & Sweet Red Wine Sauce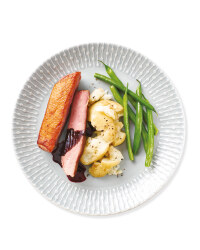 Recipe Information
Ingredients
1 x 250g Pack Specially Selected Duck Breasts
300g Specially Selected Jersey Royals
200g Green Beans
180ml Red Wine
15ml Soy Sauce
15g Sweet Chilli Sauce
Salt
Method
Grill the duck breasts for 10/12 minutes – turning occasionally.
Meanwhile, make the sauce by boiling the red wine, soy and sweet chilli sauce in a small saucepan until reduced and thick – about 5 minutes.
Boil the potatoes in some salted water for 6-10 minutes until tender, depending on the size of potato – drain and crush slightly with a fork.
Cook the beans in some salted boiling water for about 4 minutes, until just tender.
Serve the duck breasts and drizzle the sauce over, serving alongside the potatoes and beans.