Topped with salmon, rocket and crème fraîche, these crisp potato rostis are perfect for a tasty lunch or canapé.
Rosti with Smoked Salmon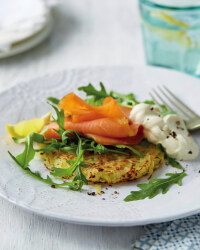 Recipe Information
Ingredients
500g Maris Piper Potatoes
120g The Fishmonger Smoked Salmon
60g Rocket Leaves
120ml Crème Fraîche
Solesta Sunflower Oil
Sea Salt
Black Pepper
Find your ingredients online on Click & Collect or find your nearest store using our Store Finder.
Method
Peel and grate the potatoes.
Put into a bowl, season with salt and black pepper and leave for a few minutes.
Squeeze out as much moisture as possible, then divide the mixture into 4. Make into circles (about 10cm) and fry in some oil until crisp on both sides.
Serve topped with the rocket, smoked salmon and crème fraîche.
Aldi Wine Matches
Enjoy with a glass of Exquisite Hunter Valley Semillon