This colourful Italian dish is as light as it is tasty.
Salmon Zucchini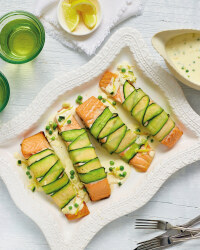 Recipe Information
Ingredients
2 240g packs The Fishmonger Boneless Salmon Fillets
1 Courgette
80ml White Wine
30g Greenvale Salted Butter
60g Four Seasons Petits Pois
150ml Single Cream Juice and grated rind from half a lemon, use the other half for garnish.
A little Sea Salt and White Pepper
Find your ingredients online on Click & Collect or find your nearest store using our Store Finder.
Method
Pre-heat the oven to 200°C/400°F/Gas Mark 6.
With a potato peeler, lengthways peel ribbons off the courgette.
Wrap the courgette ribbons around the salmon fillets, making sure the ends are underneath, then put the salmon into a baking dish.
Chop any remaining courgette up finely and put into a small saucepan.
Pour the wine over the salmon, dot with the butter.
Bake in the oven for 15 minutes.
Pour off any cooking juices and put in the saucepan with the chopped courgette.
Pour in the cream, lemon juice and rind, add the frozen peas and gently heat until slightly thickened.
Season with some salt and pepper, pour over the salmon and serve garnished with some lemon.