Easy-peasy, sticky, caramelised chicken. Perfect for a big family dinner.
Savoury Chocolate Baked BBQ Chicken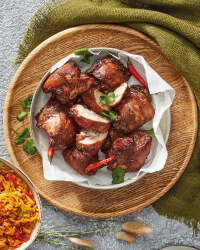 Recipe Information
Ingredients
900g Chicken Thigh Fillets
75g 70% Moser Roth Fairtrade Coca Dark Chocolate Bar
1 x tsp Instant Coffee
1 x tsp Ground Cumin
1 x tsp Paprika
1 x tsp Chilli Powder
1 x tsp English Mustard
65g Tomato Ketchup
60g Honey
70g Demerara Sugar
25ml Cider Vinegar
10ml Worcestershire Sauce
2 x cloves Garlic
40ml Water
30g Fresh Coriander
Dried Crushed Chillies
Sea Salt and Black Pepper
Method
Peel and mince the garlic.
Mix the ground cumin, paprika, chilli powder, tomato ketchup, vinegar, honey, Worcestershire sauce, garlic and mustard together in a large bowl.
Break up the chocolate and put into a heatproof bowl along with the coffee, sugar and the water.
Put the bowl over a pan of simmering water, making sure the bottom of the bowl does not touch the water, then stir until all the ingredients are melted.
Add this to the other ingredients in the large bowl and mix well.
Season with salt and pepper.
Next, put the chicken thighs into the bowl and stir through to coat.
Marinate for at least an hour.
When ready to cook, pre-heat the oven to 200°C/Gas Mark 6.
Line a baking tray with some tin foil and put the thighs and the marinade in the tin, with some space between the thighs, and roast for 35 minutes.
Serve sprinkled with chopped fresh coriander and some chilli flakes.