Goes perfectly with a range of fillings
Savoury Scones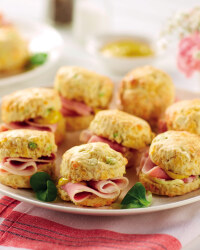 Recipe Information
Ingredients
1 packet x Pantry scone mix
150ml x Semi-skimmed milk plus a little extra to brush on top
1 tsp x Hot English mustard
4 x Spring onions, chopped
80g x Specially selected vintage cheddar, grated
Specially selected Wiltshire ham
Salted butter to taste
Crispy salad bag to garnish
Method
Preheat the oven to 200°C/400°F/Gas Mark 6.
In a large bowl mix the scone mix, grated cheese, milk, spring onion and mustard together to form a dough. Roll the dough on a floured surface to 3cm thick and cut 8 circles - approx. 5cm diameter. If you don't have a cutter just cut into 8 squares using a sharp knife .Brush the tops with a little milk. Bake in the oven for 10-12 minutes until golden on top. Cool on a wire rack.
When cooled halve the scones and spread with butter (to your taste), top with slices of ham and garnish with the lettuce.