Mini monster peppers stuffed with soft cheese and baked with pastry bandages.
Soft Cheese Stuffed Mini Pepper Zombies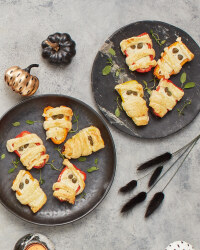 Recipe Information
Ingredients
8 x Mini Peppers
250g Garlic & Herb Soft Cheese
½ pack Ready Rolled Puff Pastry, around 190g
32 x Capers
1 x Egg, beaten
Method
Pre-heat the oven to 200°C Fan/Gas Mark 7.
Slice the mini peppers in half lengthways. Cut the pastry into 16 long strips. Fill the peppers with the soft cheese, then add the capers to each pepper half as eyes.
Wrap a strip of puff pastry around each pepper to look like bandages. Brush the pastry with the egg. Bake for 20 minutes until the puff pastry is cooked and golden then serve.