A wonderfully tasty Asian-style dish with sweet and sour flavours served on a bed of noodles.
Soy Baked Aubergines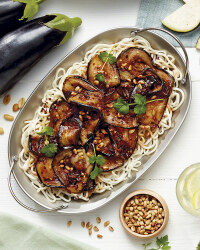 Recipe Information
Ingredients
2 Aubergines
150ml Olive Oil
4 Garlic Cloves
1 tsp Chilli Flakes
100ml Dark Soy Sauce
40g Honey
2 x 300g packs Ready to Wok Noodles
15g Fresh Coriander, chopped
40g Pine Nuts or Peanuts, chopped
Method
Pre-heat the oven to 200°C/Gas Mark 6.
Slice each aubergine lengthways into 10 slices.
Place onto baking sheets, ensuring they don't overlap, and drizzle with olive oil.
Bake in the oven for 10 minutes.
Meanwhile, peel and mince the garlic and mix with the soy sauce and honey.
Remove the aubergine slices out of the oven and turn them over.
Spoon the soy sauce mix over the slices.
Bake in the oven for a further 15 minutes.
Fry the noodles in a wok or cook them in the microwave, as per instructions on the pack.
Dry fry the peanuts or pine nuts in a hot frying pan for a few minutes until slightly charred.
Serve the aubergine slices on the noodles, topped with the coriander and toasted nuts.