Tangy and tasty cake. Perfect for parties.
Spiced Tomato Tray Bake Cake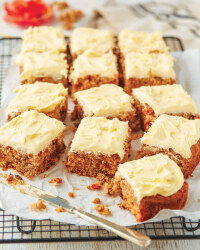 Recipe Information
Ingredients
300g Vine or Salad Tomatoes
250g The Pantry Caster Sugar
250g The Pantry Plain Flour
130g Unsalted Butter
2 Large Eggs
1 flat tsp Stonemill Ground Cinnamon
1 tsp The Pantry Bicarbonate of Soda
50g The Pantry Walnut Pieces
50g The Pantry Sultanas
Pinch Salt
450g tub The Pantry Vanilla Flavour Frosting
30cm x 20cm shallow baking tray
Method
Pre-heat the oven to 180°C/350°F/Gas Mark 4.
Line the base of the baking tray with some greaseproof paper.
Cut the tomatoes in half and remove the seeds and discard.
Chop the flesh finely – put into a sieve to drain while you make the sponge.
Cream the butter and sugar together in a food processor.
Add the eggs and process until thick.
Put this mixture into a bowl and add the flour, bicarbonate of soda, walnuts, cinnamon, salt and sultanas, then mix well.
Dry the chopped tomatoes with paper towel then add to the sponge mix and gently mix through.
Pour the mixture into the prepared tin.
Bake in the oven for 25-30 minutes, until firm and golden brown.
Allow to cool, then spread the top with the vanilla frosting.
Cut into squares.