A sweet and sour tangerine dipping sauce perfectly complements these fried prawn fritters.
Spicy Jumbo Prawn Fritters with Sweet and Sour Tangerine Dipping Sauce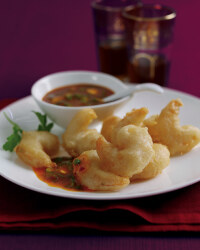 Recipe Information
Ingredients
1 250ml Jar Tomato and Chilli Dressing
2 Spring Onions, finely shredded on a slight angle
Finely grated zest of 4 small tangerines, clementines or satsumas
Juice from 1 of the above
2 Pots Fresh Coriander, roughly chopped
200g Self Raising Flour
Roughly 200ml sparkling water or lager
180g Frozen Jumbo King Prawns, defrosted
Salt
Find your ingredients online on Click & Collect or find your nearest store using our Store Finder.
Method
Carefully heat a pan of vegetable oil to 180°C.
Place the dressing into a large bowl.
Add the onions, zest and juice from the tangerines and then add the coriander, mix well.
Place the flour into a large bowl and mix enough water or lager to make a thickish batter, do not over whisk.
Meanwhile, pat the prawns dry, then toss in a little flour and then dip into the batter.
Deep fry for 2-3 minutes in small batches then drain well. Sprinkle with a little salt.
Serve with the dipping sauce.