A delightfully refreshing and zesty salad.
Strawberry, Spinach & Goat's Cheese Salad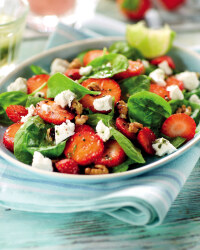 Recipe Information
Ingredients
400g punnet Strawberries
200g bag Spinach leaves
130g bag Walnuts
150g log soft Goat's Cheese
100ml Solesta Olive Oil – plus a little extra for frying
Juice of 1 lime
1 tsp Stonemill Dried Parsley
Salt and Black Pepper
Find your ingredients online on Click & Collect or find your nearest store using our Store Finder.
Method
Saute the walnuts in a little oil in a large frying pan or wok until slightly burnt, cool, then chop roughly.
Wash and hull the strawberries, then slice.
Gently rip the spinach leaves.
Put the spinach leaves, walnuts and strawberries into a large bowl.
Gently break the goats' cheese and sprinkle over the salad.
To make the dressing, whisk the lime juice, parsley and the olive oil together. Season with some salt and pepper, pour over the salad, gently toss and serve.