Strawberry Tart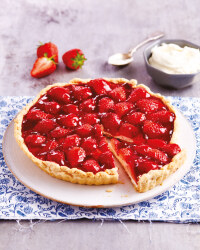 Recipe Information
Ingredients
400g Strawberries
375g pack Ready Rolled Shortcrust Pastry
200g Strawberry Preserve
300ml Double Cream
1 tsp Vanilla Essence
22cm loose base fluted round flan tin
Method
Pre-heat the oven to 200°C/400°F/Gas Mark 6.
Unroll the pastry and line the tin.
Trim the top and prick the base with a fork.
Use some crumpled tin foil to line the base of the pastry and support the sides and then bake in the oven for 7 minutes.
Carefully remove the foil and return the tin to the oven for another 4 minutes to dry out the base, remove from the oven and allow to cool.
Put the cream and vanilla essence into a bowl and whisk until thick.
Cut the strawberries in half, then fill the pastry with cream and top with the strawberries.
Finally, warm the preserve and glaze the top of the strawberries and any spaces in between.