Tasty sweet potato with pasta and garden peas.
Sweet Potato Pasta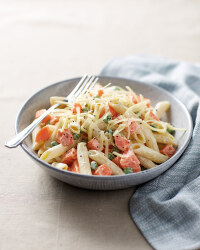 Recipe Information
Ingredients
300g Sweet Potato, peeled and cut into small cubes
300g Penne Pasta
100g Garden Peas
2 tbsp 1% Fat or Semi-Skimmed Milk
150g Low Fat Natural Yogurt
40g Mature Grated Cheese
1 pinch ground Black Pepper
Method
Cook the sweet potato chunks in simmering water for 12-15 minutes, until tender. Drain well.
Cook the pasta shapes in a large saucepan for 6-8 minutes, or according to pack instructions, until tender. Drain well then return to the saucepan.
Stir the sweet potato chunks and frozen peas through the pasta.
Add the milk and yogurt and heat gently for 1-2 minutes.
Serve, sprinkled with the cheese and a little ground black pepper