Tasty tomatoes and crumbly feta combine for these delicious savoury scones.
Tomato & Feta Scones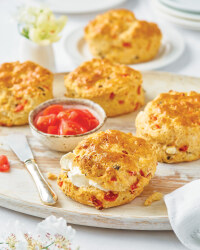 Recipe Information
Ingredients
150g Cherry Tomatoes
100g Greek Feta Cheese
10 Cucina Black Pitted Olives
50g Salted Butter
350g The Pantry Self Raising Flour
25g The Pantry Baking Powder
20ml Olive Oil
Pinch Salt
250ml Milk
1 Medium Egg Yolk
Soft Cheese to serve
7½ cm round cutter
Method
Pre-heat the oven to 200°C/400°F/Gas Mark 6.
Chop the cherry tomatoes and the black olives finely.
Put the flour into a large mixing bowl, add the baking powder and salt and whisk well.
Cut the butter into small pieces and add to the flour mix, along with the olive oil.
With your fingers, rub the butter and oil until it resembles breadcrumbs.
Crumble in the feta cheese, add the chopped tomatoes and olives, then gently mix.
Add the milk and mix in gently, until you have a sticky dough.
Turn out on to a floured work surface and pat the dough down to about 3cm thick.
Cut out 6 rounds with the cutter and place on a lightly greased baking tray.
Brush the tops with the egg yolk.
Bake in the oven for 15-20 minutes until risen, golden and slightly squashable with your finger.
Serve warm, split open and spread with soft cheese.