Mashed peas and avocado served on toasted sour dough and topped with a poached egg.
Avocado & Pea on Toast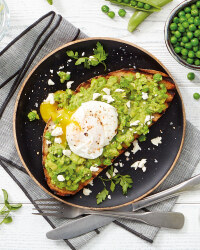 Recipe Information
Ingredients
2 Avocados
200g Defrosted Frozen/Chilled, Freshly Cooked Peas
Juice of 1 lemon
30ml Olive Oil
4 slices Sour Dough Bread
100g Fetta Cheese
4 Medium Eggs
½ tsp Paprika
Sea Salt and Black Pepper
Method
Cut the avocados in half, remove stones, scoop out flesh and mash roughly with a fork with the lemon juice.
Mash the peas with a fork and add to the avocado, season with the paprika and some salt and pepper, then drizzle over the olive oil and mix well.
Poach the eggs and toast the bread.
Divide the avocado and pea between the slices of toast and top with a poached egg.
Crumble the feta over the tops and serve immediately.