This luxurious dessert idea is brilliant for dinner parties.
Baked Peaches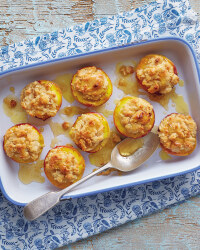 Recipe Information
Ingredients
4 Peaches
100g Mascarpone Cheese
50g The Pantry Ground Almonds
30g Soft Brown Sugar
To serve
Grandessa Squeezy Honey
Cowbelle Crème Fraîche
Find your ingredients online on Click & Collect or find your nearest store using our Store Finder.
Method
Pre-heat the oven to 190°C/350°F/Gas Mark 5.
In a bowl, mix together the mascarpone cheese, ground almonds and sugar.
Cut the peaches in half and remove the stones with a teaspoon.
Divide the mixture between the 8 halves, making a dome on the top with the mixture.
Put the peaches on a baking tray, bake for 20 mins, until the peaches are tender and the topping browned.
Serve with a drizzle of honey and a dollop of crème fraîche.