A delicious and satisfying breakfast alternative.
Banana & Berry Muffins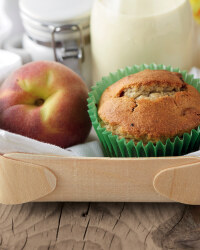 Recipe Information
Ingredients
200g The Pantry Plain Flour
140g The Pantry Caster Sugar
3 ripe organic Bananas
½ tsp Salt
½ tsp The Pantry Baking Powder
1 tsp The Pantry Bicarbonate of Soda
75g The Foodie Market Berry Fruit Mix
1 Large Egg
80g Greenvale Perfect for Baking Spread
12 The Pantry Paper Muffin Cases
Method
Pre-heat the oven to 180˚C/350˚F/Gas Mark 4.
In a food processor, mix the spread, egg, flour, sugar, baking powder, bicarbonate of soda and salt and pulse until the mixture is well blended.
Peel the bananas and mash slightly then add the mashed bananas to the food processor and pulse for another minute.
Put the cake mix into a bowl and stir in the berry mix.
Put the paper cases into a muffin tin and divide the mixture between the cases (about a heaped dessert spoon in each).
Bake in the oven for 25 minutes until risen and firm to the touch.
Leave to cool before serving.