Succulent British quarter pounders, served in ciabatta with crispy lettuce and tangy cherry tomatoes.
Beef Burger Stack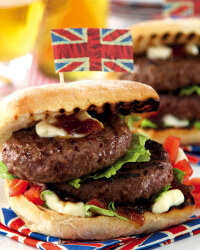 Recipe Information
Ingredients
2 x 454g packs British quarter pounders
2 x packs 2 Cucina ciabatta rolls
60ml Bramwells mayonnaise
100g cherry tomatoes, chopped
60g Bramwells red onion chutney
4 x 500ml Gold Medal Ale
¼ iceberg lettuce, shredded
Method
Cook the beef burgers under a hot grill or on the BBQ as instructions on the pack.
Cut open the rolls, and toast lightly.
Divide the mayo and the onion chutney between the four buns.
Top with the burgers, tomato and lettuce.
Serve alongside the chilled Gold Medal Ale.