Classic sour dough with a beetroot and feta twist for extra flavour.
Beetroot & Feta Soda Bread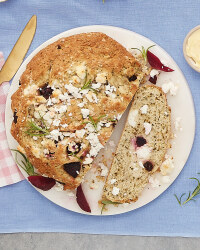 Recipe Information
Ingredients
500g Plain Flour
1 tsp Bicarbonate of Soda
1 tsp Salt
1 tsp Sugar
3 tsp Dried Oregano
100g Feta Cheese, cut into small cubes
100g Boiled Beetroot, cut into small cubes
300ml Soured Cream
100ml Milk
Method
Pre-heat the oven to 180°C Fan/Gas Mark 6.
Place the flour, bicarbonate of soda, salt, sugar and 2 tsp of the oregano into a mixing bowl and stir to combine.
Stir in 75g feta cheese and the beetroot.
Mix the soured cream and milk together.
Make a well in the centre of the ingredients and pour in the soured cream mix.
Stir to combine and use your hands or a round bladed knife to bring the mixture together to a soft dough – if the dough is too dry add a little more liquid and if it is too wet add a little more flour.
Shape the dough into a ball and place on a greased and lined baking sheet.
Flatten the top of the dough, cut a cross into it, then sprinkle with the remaining feta and oregano.
Bake for 30-35 minutes until the soda bread is golden brown and cooked in the centre.
Allow to cool a little on a wire rack and serve warm, cut into slices or wedges.